17 May

Don't Overlook Custom Imprinted Apparel For Your Business!

While radio and magazine marketing work, smart entrepreneurs know that the biggest solution isn't always the best one. With interactive websites, social media, free webinars and email all playing larger and larger roles today's ad-choked media environment, sometimes simpler, more direct marketing efforts is better. Take custom printed T-shirts and other apparel for example. They are inexpensive walking billboards for your brand, extending your reach far beyond the roadways.

Think about the last time you went to the mall, a department store or even the super market. How many shirts did you see with brands like Nike, Adidas, Hollister, or sports teams like the Orioles and Ravens, or bands like U2, Guns "N Roses and other popular bands? I'm betting you were marketed to, many times over!

Often, when people think of branded clothing, they think of those boring corporate polos. But you can push the envelope with tank tops, t-shirts and hats. Yes, you can be creative with your clothing choices. But most importantly, you want to create conversation. For some brands, this has to do with being part of the group. For example, try wearing an Oriole hat into a Baltimore super market and you'll probably get stopped all by people who want to talk about the team. Simply wearing the hat will attract big fans of the brand that want to talk. That's potent marketing.  And you don't have to be a big, classic brand for this to work. It's just human nature to be curious about what others are wearing, and sooner or later someone will comments and ask about the brand – your brand.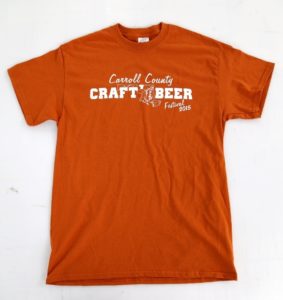 Want to build a tribe of loyal fans? Here's an idea for you. At the next conference or networking event you attend wear a shirt with your corporate logo on the back. You'll really stand out from the masses of suit jackets milling about. At large conventions, you might even consider paying people to wear your T-shirts and walk around the venue to instantly build an army of followers. Organizers of fundraising races often hand out T-shirts branded with the charity and sponsors of the event. Runners proudly wear these shirts and are free, walking billboards for these brands. Why do companies give away a custom T-shirt? Simple. It's cheap, effective and creates a tribe of brand ambassadors everywhere they go in the community. It's a small investment for brand recognition and more business.
The point is simple, every opportunity is a marketing opportunity if you're paying attention and thinking outside the box. And some of the best marketing opportunities are cheap, easy, and fun. So, start dressing in your brand today.
Shannon-Baum designers will work with your current artwork, or custom make you something new. With multiple inks, embroidery, and apparel colors to fit your brand, the possibilities are endless.  To find out more about customized apparel products call or stop by the showroom today.
            Shannon-Baum Signs and Graphics
105 Competitive Goals Drive Eldersburg, MD 21784
410-781-4000 or 800-368-2295