06 Jan

A New Look for Baltimore City's Finest

The process began in July 2014, when the Baltimore City Police Department contacted us to discuss changing the existing stripes and decals for their vehicles to match the "Foxtrot" style on their helicopters. The existing design has been supplied by Shannon-Baum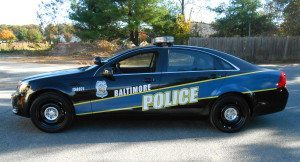 Signs, Inc. for more than 20 years.  Several meetings, drawings and changes to the layout took place during the month of August to ensure the design correctly matched.  On September 4th, the final approval was received and the purchase order was issued to supply all the materials required to outfit 63 new Caprices. 33 black cars and 30 white cars were already on order. On October 2, 2014 we released the first prototype vehicle for approval. Within two weeks minor changes were made and a final approved layout was signed. On October 31, 2014, Baltimore City Police Department picked up the first set of decals and stripes to begin installing onto their new fleet of vehicles. Sometime in January, Baltimore City will have a formal unveiling and ribbon cutting ceremony.