07 Jun

Branding Your Location

Visitors to your brick and mortar location should leave with a good impression and your brand on their mind.  One way to do this is with good signage.

Displaying clear, descriptive signs shows your customers and visitors that you take pride in your work.  Displaying a unique, one-of-a-kind sign tells clients, and prospective clients alike, that you will go to great lengths to give them just the right product or service for their needs, just as you did in selecting your storefront sign.
Nowadays, a routed custom sign can be created from either wood or synthetic material such as PVC or HDU. Using modern, computerized numerical control (CNC) machining techniques produces 3-demensional signs resembling those painstaking, old-fashioned hand-carved signs of yesteryear, but for much less cost.
Sandblasted signs have a more organic appearance, created with your choice of woods or long-lasting high density urethane (HDU).  Custom background textures such as pebble or wood-grain add richness.
Sandblasting and routing produce great three-dimensional signs for any use. And the modern materials, including high-grade paints and wood protectants ensure your sign will hold up for a long time.
Combining an appealing appearance with safety and branding is another way to say "I care about you" to your visitors.
When a potential customer turns into your parking lot they're already beginning to form an opinion of your brand. Preventing unsightly dings and chips on your parking lot posts will boost your image and protect your property, too.  Covering your posts will make old ones look like new and prevent new ones from getting banged up.  Post covers enhance and protect the appearance of your place of business. Look for covers constructed of hard plastic that are UV resistant for a longer life.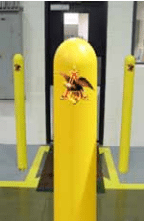 For an economical way to brand you're your location, add a custom decal with your logo or business name to your post covers.
Whether coming or going, client or prospect, it pays to make a good impression. And as the old saying goes: You only have one chance to make a good first impression. Clear, descriptive signage leaves visitors with an image of your brand and your quality of work. Make it a good one!
The professionals at Shannon-Baum Signs offer design, production and installation of graphics, banners, traffic signs, vehicle wraps, ADA signs, sign posts, Band-It strapping and more throughout Maryland, Virginia, DC, West Virginia and Delaware. Call today to see how you can improve the appearance of your business with expert signage.
Shannon-Baum Signs and Graphics
105 Competitive Goals Drive
Eldersburg, MD 21784
410-781-4000 or 800-368-2295