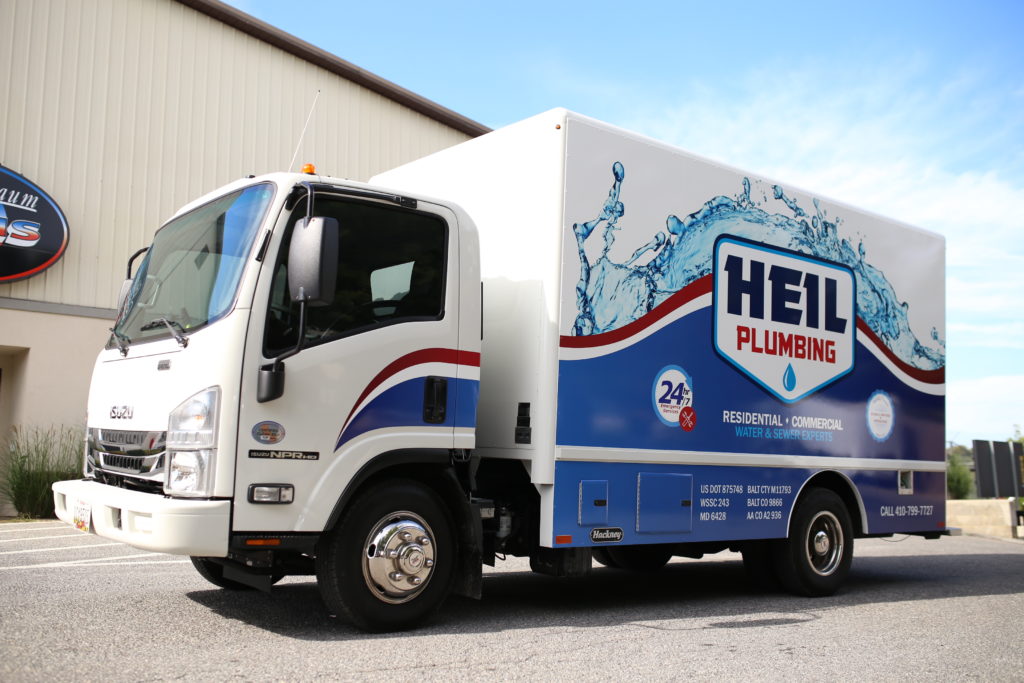 31 Oct

Heil Plumbing | Local Business Spotlight – November
Heil Plumbing
Heil Plumbing is a family-owned and operated business that opened its doors back in 1977. Heil Plumbing is located in Howard County, Maryland and offers a wide range of professional plumbing solutions, including radiant heat, commercial and industrial solutions, gas line and appliance hook ups, pumps, hot water heater repair or replacement, polybutylene water service replacement, and more. They are open 24 hours a day, 7 days a week and are ready for any plumbing emergency you may have! For more information about Heil plumbing please visit their website https://www.heilplumbing.com/.
Shannon-Baum signs has worked with Heil Plumbing on four vehicle wraps, one truck, one van and two box trucks. It is always wonderful seeing more of their vehicles come in because that means their business is growing! One of our goals as a sign shop is to successfully promote other small businesses with effective signage and graphics. Vehicle wraps are a great way to do just that! Instead of having one stationary sign in front of your building you now have mobile advertisements when you add vinyl wraps to your fleet! Wherever you go, your business goes too! Shannon-Baum Signs has been wrapping vehicles for 18 years, so we are prepared to design, print and install any wrap right here at our Eldersburg facility!
Heil Plumbing is a great local business that we always enjoy working with. If you are in need of any plumbing repairs don't hesitate to give them a call!
Please enjoy some photos of all of their vehicles that we have wrapped this year!