02 Jul

How to best display an American Flag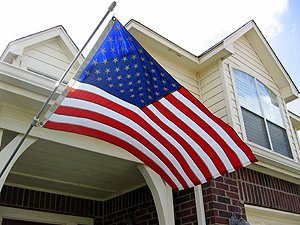 To celebrate the fourth of July, here's a few tips on how to properly hang an American Flag.
Technically, if you don't hang Old Glory to the left of your door (as you face the house) with the stars at the top, you're violating the law -the United States Flag Code, to be exact. While there's no penalty for failure to comply, it is considered unpatriotic. Another common mistake: When mounting the flag flat on a wall, tack down only the top two corners. You're not supposed to restrict the flag, and this lets it fly freely. Finally, if a storm is brewing, take the flag down. Bad weather puts unnecessary wear and tear on the flag, and unnecessary damage is considered disrespectful.