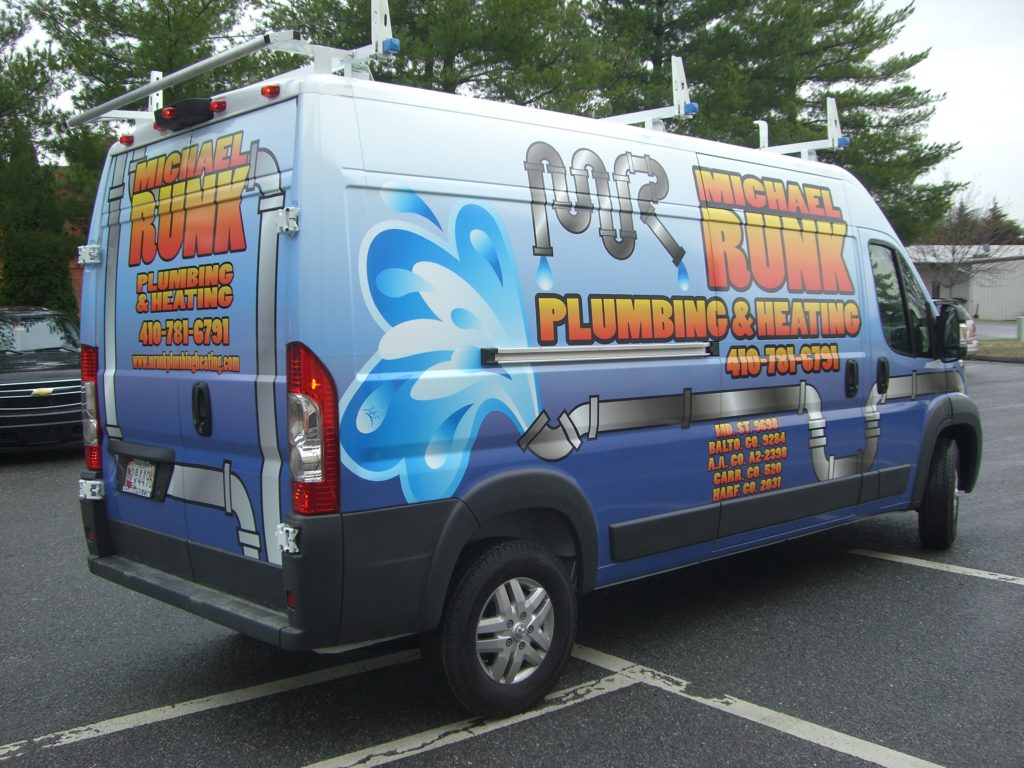 31 Aug

Michael Runk Heating & Plumbing | Local Business Spotlight- September
Michael Runk Plumbing & Heating| Local Business Spotlight
Michael Runk Plumbing & Heating is a small business located in Sykesville, Maryland. They provide full-service residential, commercial and industrial plumbing, water and heating. The business is licensed and bonded and has a registered Master Plumber License. Michael Runk Plumbing & Heating has over 20 years of experience in the field and bases their business off of honesty, dependability and quality. They value their customers and will always go the extra mile to make sure the job is done correctly. For more information about Michael Runk Plumbing & Heating visit their website http://www.mrunkplumbingheating.com/.
Shannon-Baum Signs has completed many vehicle wraps for Michael Runk Plumbing over the years. In fact, we have wrapped four of their vans over the past seven years. Michael Runk Plumbing was actually one of our first wrap customers back in 2010! One thing we love about returning customers is having the opportunity to watch their business grow! Whenever they add a new vehicle to their fleet it puts a smile across our face.
Fleet graphics are a great way to spread the word about your business. When you are in the plumbing business you spend most of the day on the road, so why not utilize your time and travel for advertising? Our wraps are designed to suit your vision and business. Your wrap can feature your website, phone number, email, photos of your work, and just about anything else that you can think of! Shannon-Baum Signs offers both full and partial wraps. To see more examples of our vehicle wraps visit our Vehicle Graphics page!
Michael Runk Plumbing & Heating is a wonderful local business. We always look forward to wrapping the vehicles in their fleet and working with Michael and his staff! We can't wait to watch their business expand and succeed!