06 Aug

OSU Driving and Biking Simulator Gives Valuable Safety Data

One of the biggest challenges for civil engineers when it comes to driving and biking safety is predicting when and how crashes are going to occour: there is relatively little meaningful data on driver behaviors, and virtually none on driver-biker interactions. OSU has come up with a creative answer to this conondrum: a driver-biker simulator.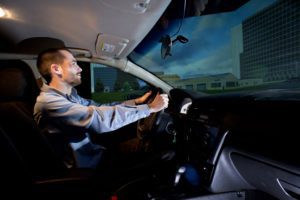 When Oregon State University (OSU) broke ground on its Driving and Bicycling Simulator Facilities just over two years ago, David Hurwitz saw his passion for protecting motorists, pedestrians, and cyclists take a giant step forward. David, an assistant professor of transportation engineering at OSU's School of Civil and Construction Engineering, was earning his PhD at the University of Massachusetts Amherst when he had the opportunity to help obtain the simulator lab's equipment. With a research focus on transportation safety and minimizing roadway fatalities, David knew as he prepared to join OSU's faculty that a lab simulating both motorist and cyclist behavior was going to be invaluable.
 "One of the challenges in studying crashes is that it's really difficult to predict when and where they are going to happen, so it's nearly impossible to capture meaningful data," he notes. "The power of a driving simulator is that it can generate specific crash scenarios to collect a robust set of data in a controlled laboratory environment. And the fact that we have the capability of a driver and a cyclist to interact in the same virtual environment is just pretty darn cool."
The driving component is a high-fidelity, moving-base simulator that features 180 degrees of forward vision, LCD screens in both side-view mirrors, a rear projection system for the center rearview mirror, and a digital instrument panel. The 2009 Ford Fusion cab sits on an electric motion pitch system that rotates it +4/-4 degrees, about the focal point of a driver's eye. The driver's foot position, face, hands, and the overall driving environment are captured on four separate cameras, which record to a four-way DVR to assist with the simulator data's interpretation.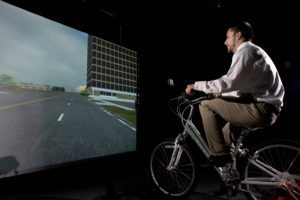 The bike simulator is one of just a few full-scale bicycle simulators in the world, and the only one that can operate simultaneously with a driving simulator in the same virtual environment. Braking, pedaling, and steering inputs from the cyclists are reflected in the visual field, which includes a rearview mirror.
Ultimately, the data collected from the simulators can be used to design safer transportation systems and reduce injury and fatality crashes, a goal that drew David to the profession.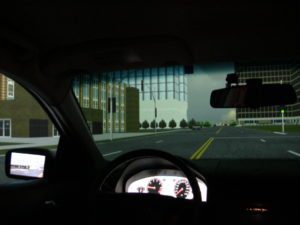 "We care about how people make their decisions and what mode they are going to select. We also care about how people react to the designs we create, and how those designs are going to impact them," he says.
The ability to clearly communicate the human impact of technical designs is essential to relating the benefits of transportation safety to the public and to municipal, state, and federal governments that decide which projects receive funding, David adds.
David's research focus dovetails with KAI's emphasis on improving transportation safety, and he has worked closely with the firm on several research and intelligent transportation system projects designed to reduce fatality and injury crashes.
"He's been a great champion for transportation safety for the state and for OSU," says Shaun Quayle, PE, a senior engineer in KAI's Portland office.