30 Mar

Salernos Restaurant & Catering | Local Business Spotlight | Shannon-Baum Signs
Salernos Restaurant & Catering – Local Business Spotlight
Salerno's Restaurant & Catering is an award-winning seafood restaurant and catering company located on Liberty Road in Eldersburg, Maryland. This year they are celebrating their 40th year in business! Their goal is to bring their customers the finest, freshest meals at a good price whether it be a crab and bull roast for 300 people or just a few guests at your house for a graduation party. Salerno's has a full bar, restaurant, and carry-out location, making it the perfect lunch or dinner option for anyone! Salerno's is well known among the Shannon-Baum family because they cater all of our events and celebrations. Next time you are in the area stop by and try out something from their extensive menu! For more information about Salerno's and to check out their menu visit salernos.com.
Throughout the years, Shannon-Baum Signs has completed many projects for Salerno's. From sandblasted signs & banners to full vehicle wraps, we have done it all for them! It is always a pleasure working with them to create new and exciting graphics to represent their company.
Shannon-Baum Signs has wrapped and lettered an extensive amount of Salerno's vehicles. We have done everything from their pickup trucks and trailers to box trucks. Vehicle wraps and graphics turn your vehicle into a moving billboard; wherever you go your business goes as well! Our 3M wraps last on average 5 years with regular care. Shannon-Baum Signs has been installing vehicle wraps since 1999, so you can trust our skilled installers with your custom wrap!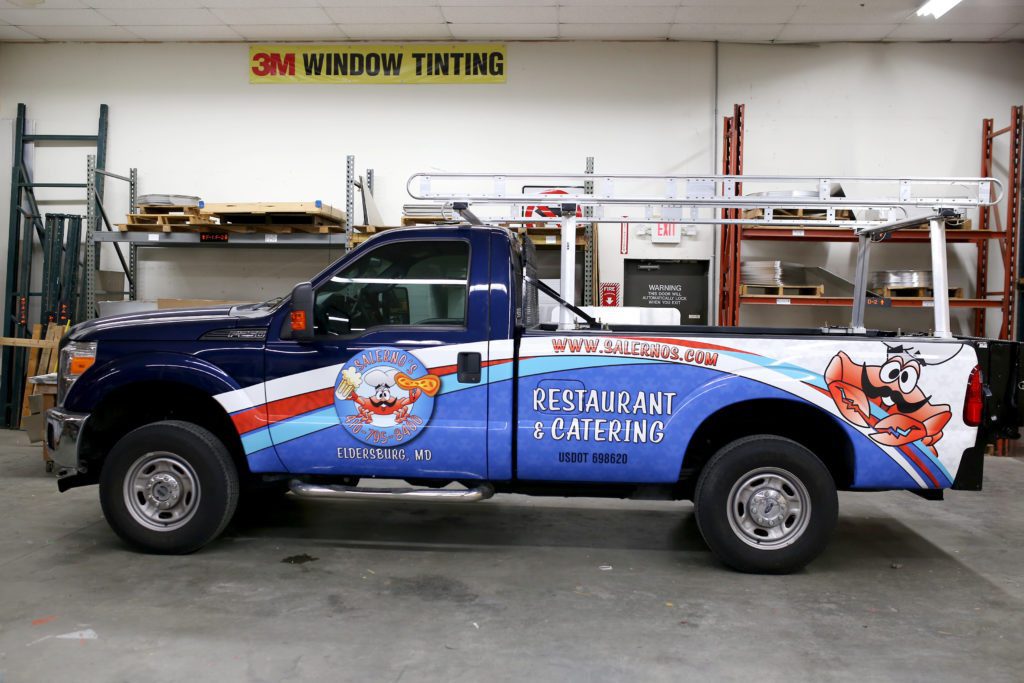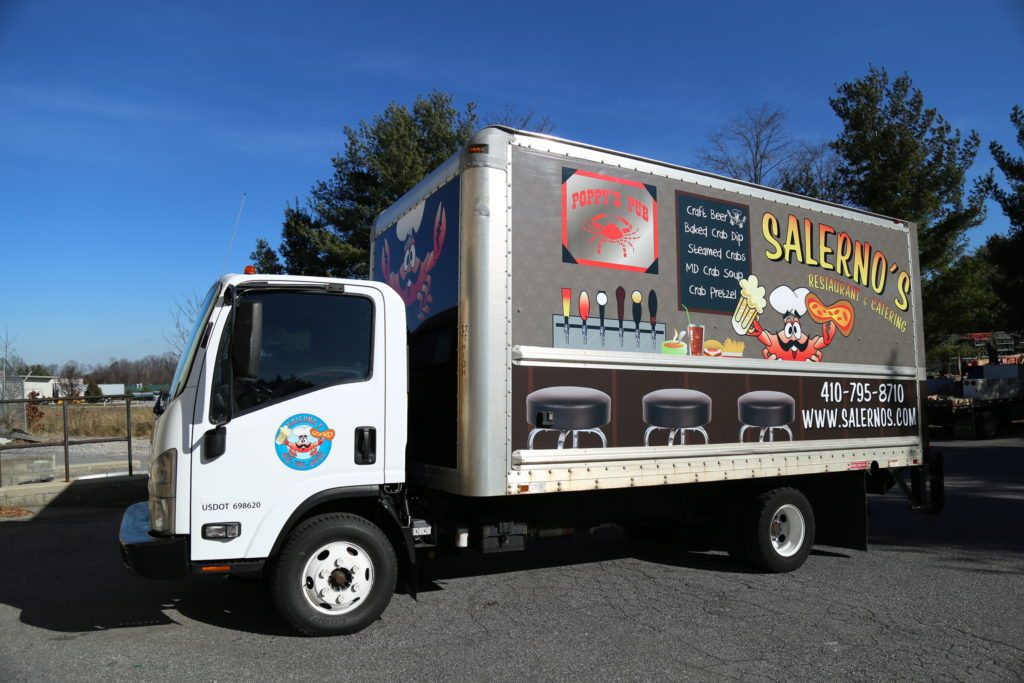 Along with vehicle graphics, we have also created unique signs for the outside of their location. They have both a L.E.D. message center and two custom sandblasted signs. Their L.E.D. sign can catch the attention of passing motorists with messages of their current specials and upcoming events. Our L.E.D. message centers have the ability to be edited from your own computer, which makes changing your message a breeze! No more losing removable sign letters or dealing with the unpleasant weather! You can find the two sandblasted signs on the restaurant and the catering hall. Each sign was carefully designed, fabricated and then hand painted. ­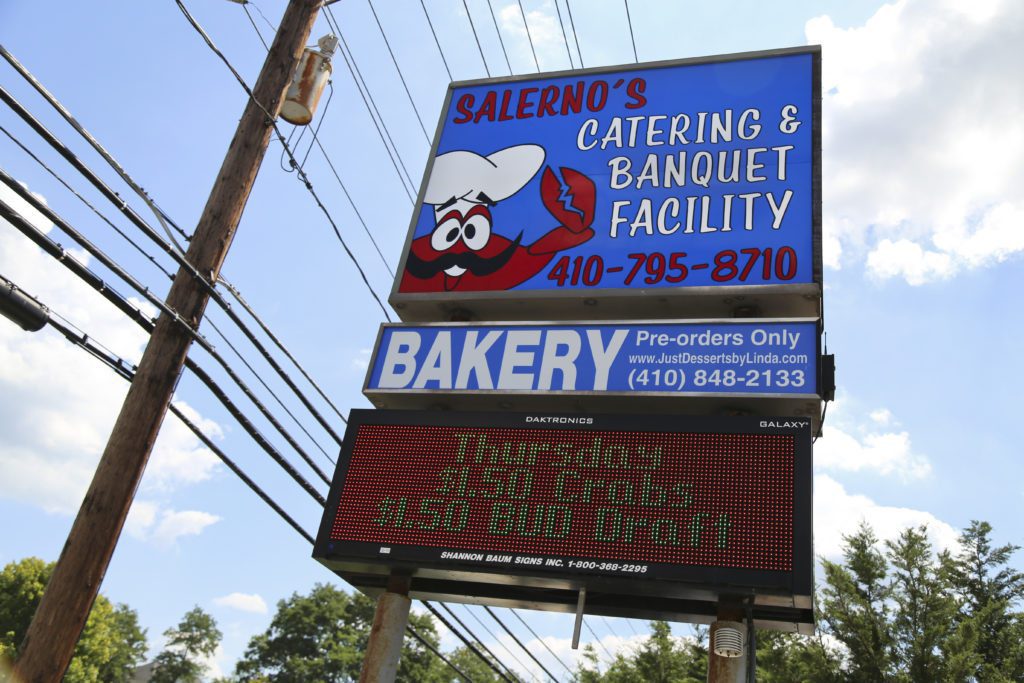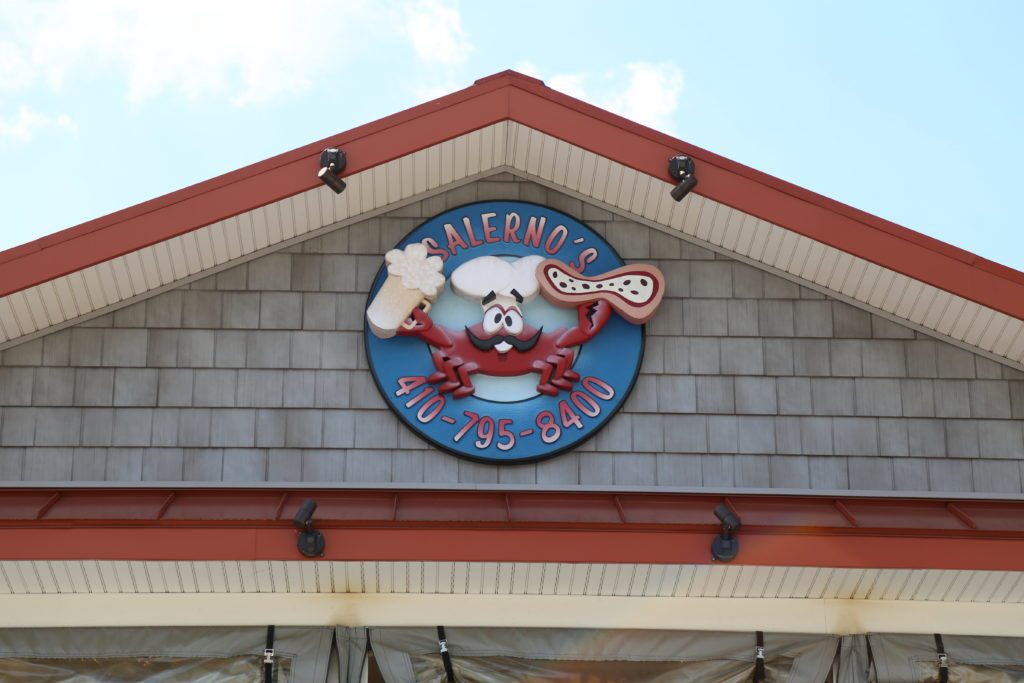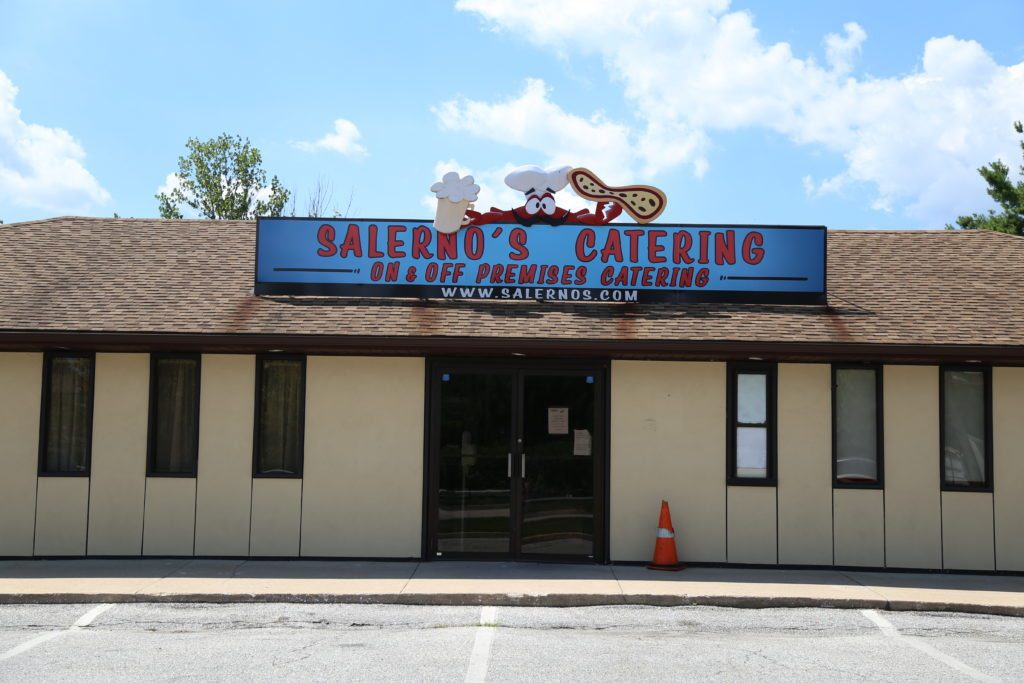 A few more products we have created for Salernos include:
– Apparel
– Banners (Traditional Vinyl banners, Step & Repeat banners, Retractable Banners)
– Cornhole Boards
– Custom parking signs
– Photo Boards
– Stickers
We are so glad that we have created a genuine business relationship with Salernos Restaurant & Catering. We also have the honor of being be an event sponsor each year for their Carroll County Craft Beer Festival. They are always a fun event to be a part of! We always look forward to working with them and also enjoying the wonderful food they cater for us. Be sure to stop by and grab lunch or dinner there one day soon!