03 May

Is a vehicle wrap a good investment for your business?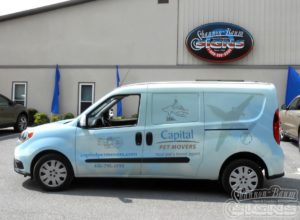 Vehicle wraps advertising local businesses are becoming more and more common these days. Do they make sense for your company?  Think about this for moment: the Outdoor Advertising Association of America (OAAA) says that more than 95 percent of Americans are reached by media targeting vehicle drivers and passengers. That's a whopping big percentage!
So what is a vehicle wrap and how can it help your small business?
Basically, a vehicle wrap is a digitally printed travelling billboard that is professionally installed on your vehicle. They can cover the entire vehicle or just a portion of it, including the windows. Most are printed in full color with eye-catching graphics to promote the company brand. They are made of heavy-duty vinyl and can last from three to five years.
Wraps are not just for large companies that have vehicle fleets. The OAAA says can work for any size business. Many small-business owners who use vehicle wraps agree that it gives their company credibility by displaying their brand and logo where potential customers can see them. Smaller businesses using vehicle wraps say it puts them the same leagues as the larger franchises and companies that have a fleet of vehicles.
Compared to other forms of advertising, the OAAA says that mobile advertising reaches more consumers at a lower cost per thousand impressions – around 4 cents per thousand – than any other form of advertising. That compares to about $3.56 per thousand impressions for outdoor signs. And newspaper ads run around $19.70 for the same number of impressions. The number of impressions per day will vary with the amount of miles driven and where the vehicle is used, of course. But the numbers can run anywhere between 30,000 and 80,000 impressions per day. And that can bring the cost below $44 per million impressions. Wow!
How effective are vehicle wraps? Here are three easy ways to track the effectiveness of your wrap.
Create a special landing page for your website and put that URL on the wrap. It has to be a simple one so potential customers can remember it easily while driving.
Provide a separate phone number that is only advertised on the wraps. Then keep track of the calls that come in on that line.
Advertise a special deal only on the wrapped vehicle and keep track of those calls, too.
Since 1950, Shannon-Baum has provided Maryland, DC, Virginia and beyond with quality installation of vehicle graphics and signs and great customer service. All are delivered at competitive prices. Call today to find out more!
Shannon-Baum Signs and Graphics
105 Competitive Goals Drive Eldersburg, MD 21784
410-781-4000 or 800-368-2295