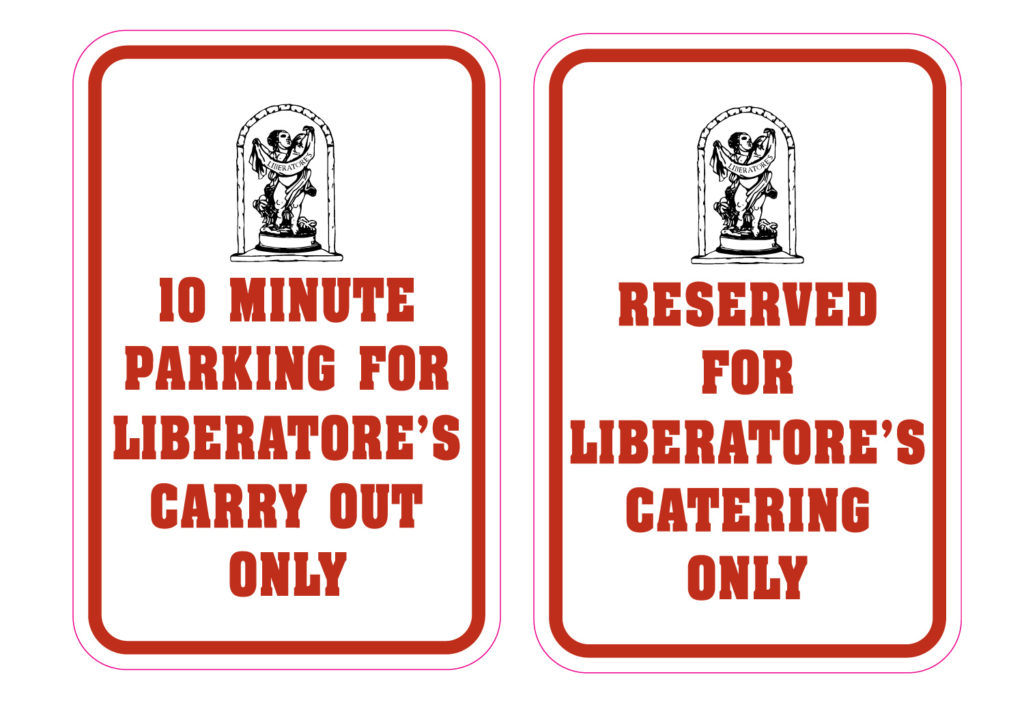 03 Oct

Liberatore's Ristorante & Catering | Local Business Spotlight – October
Liberatore's Ristorante & Catering
Liberatore's Ristorante & Catering is a family owned and operated group of Maryland-based Italian restaurants with five locations throughout the state. Their first restaurant was opened in 1988 by a group of brothers, cousins and family friends. The family has roots in Central Italy & Baltimore's Little Italy, the Liberatore's name has been synonymous with fine Italian food served by family, for 25 years and counting. Liberatore's is known for their authentic, affordable Italian food, friendly atmosphere and ability to help celebrate important life events with their spectacular catering. For more information about Liberatore's visit their website http://www.liberatores.com/.
Shannon-Baum Signs has worked with Liberatore's for many years completing various projects to assist in promoting their business. We have designed and manufactured parking signs, promotional banners & signs and have also applied pre-spaced lettering to their doors. All of these small projects may seem nominal, but they are what help keep their business running efficiently. Custom parking signs help direct traffic in the parking lot to keep things flowing. Promotional banners and signs help advertise their latest specials, upcoming events and their mission statement. Lastly, pre-spaced lettering that displays their business hours help inform customers when they should stop by for their next dinner!
Another aspect of their business that we have worked with them on is the interior of their restaurant. We custom designed and installed a door mural to match the atmosphere of the space, and also created stencils with their logo that they used on the floor. Having a welcoming appearance is an important aspect of every restaurant and we are happy to have helped them create on-brand styling!
Liberatore's is a very successful family-owned business that we always enjoy working with. If you haven't stopped in to try some of their wonderful Italian food, now is the time! We look forward to working with the family & friends at Liberatore's in the future!