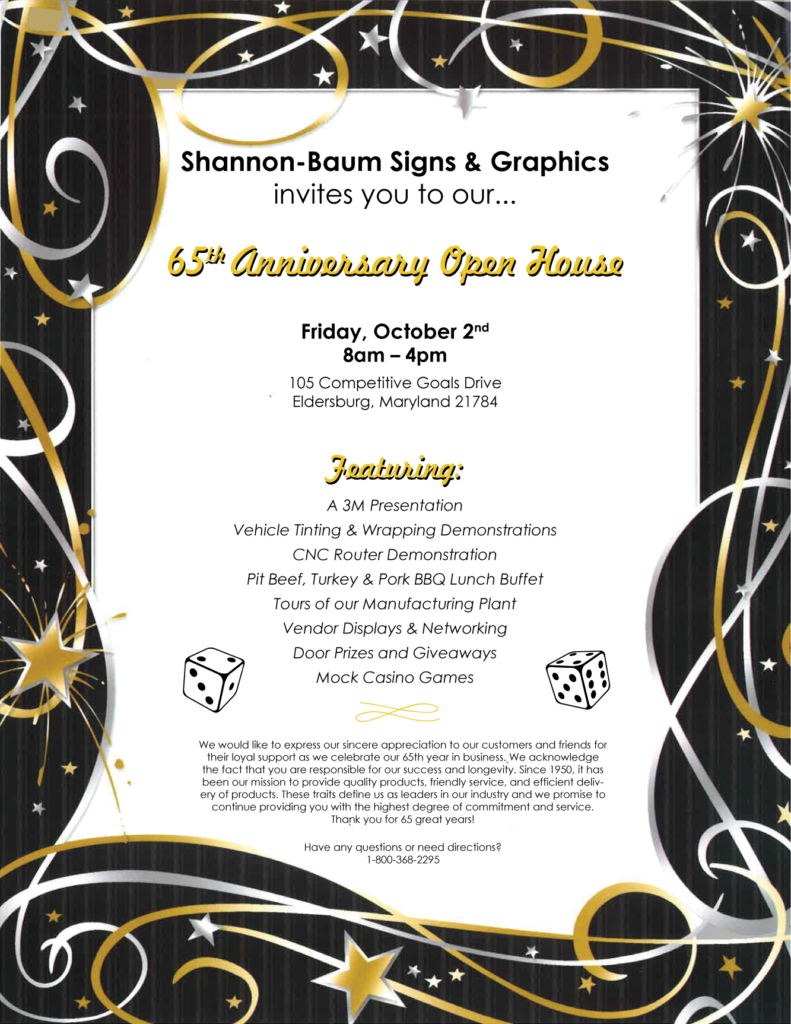 18 Aug

Open House

Many of you might already know, but for those who don't, were having a 65th Anniversary Open House October 2nd  from 8am to 4pm!  There will be a lot to do and learn, as well as lunch catered by Salerno's. Every guest who joins us will not only get the chance to learn about how we make our great products, but will also receive a free custom street sign! Door prizes will also be drawn every half hour. A few of the door prizes include Raven's tickets, corn hole boards, Sport's teams street signs, and our custom Maryland-themed wrapped cooler!

Throughout the day there will be plenty of things to do and watch. A few events that will be taking place include the following:

-Vehicle wrapping and tinting demonstrations

-Router demonstration

-Facility Tours

-3M presentation

-Mock casino games & a photobooth

The reason we have this open house is to thank our customers and friends for their business and support. We would not be here if it was not for all of you! We also do it to show you our workflow and all of the steps we take to manufacture a top-quality product. Quality and customer service are our top priorities and that is one reason that we are one of the leading sign shops in Maryland!

So mark your calendars and come see us on October 2nd; we promise it will be a fun time! We can't wait to see you there!