30 Jul

3 Ways to Promote Your Small Business Wherever You Go

Are you a small business owner who is always on the go and doesn't always have time to think about promoting your business? Or are you just starting up your small business and don't know where to start? Well, Shannon-Baum can help! We're going to tell you three easy, customizable and inexpensive ways that can help you easily promote your business everywhere you go.

The first way that you can advertise and promote your business is with car magnets! If you are not ready for vehicle lettering or a wrap, think about a magnet. Magnets are easy to put on and take off of your vehicle whenever you want. So, if you're around town running errands, put it on your vehicle for everyone to see! The magnets can also be transferred from one vehicle to another so you never have to worry about taking a certain vehicle to an event.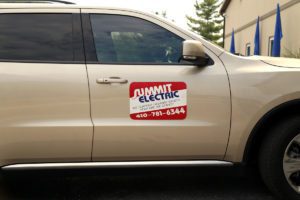 The second thing that will help you promote your business is t-shirts. Just like the magnets, t-shirts can be used in everyday life to advertise what your business does. T-shirts can be worn almost everywhere you go and provide an easy way to advertise while you are working on other things. T-shirts are also great for unifying your team of employees at an event or even in the shop. Our t-shirts can be made in a wide range of sizes and colors.
The last way Shannon-Baum can help promote your business is with decals. Who doesn't love decals? Decals are fully customizable when it comes to shape, size and color. Decals can be kept in your car or pocket, put on your cars and equipment, or left in small shops like coffee shops for everyone to see and pick up.

If any of these suggestions sound like they are something your small business would be interested in give us a call today so we can get them started! 410.781.4000